About Company
Ghadeer Mineral Water Company is proud that it is one of the leaders for bottling water in the Gulf area since 2000. The factory has a unique location; it is surrounded by Hajar mountains. It has a high quality natural water since the source is from deep artesian well, added to that, Buseirah Dam is also located in the same area.
Quality of bottled water sourced from Fujairah is famous because of its crystal clear natural water. It is guaranteed to be with the highest standard of purity.
The factory also can assure unpolluted supply of ground water since it is far from city or farm. We have the most advanced processing machineries from Sidel, France and Water Treatment plant from ICE.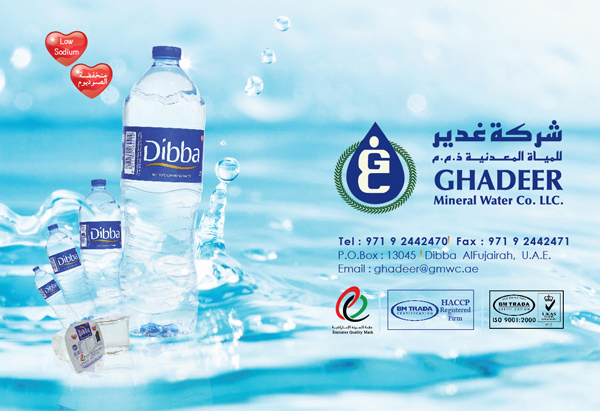 During these past years, Ghadeer Mineral Water Company has continuously pursuing new ways of improving and modernizing the equipment used at the Plant, and has interests in acquiring the latest in Mineral Water Processing Technology.
We have professional staff that regularly monitors the quality of the drinking water to conform with the Gulf Standard and the World Health Organization Standard.
In the same way, Quality Control Department is following all the procedures of hygiene and processing from the original source in the well until the Final product.
Quality Management system is in place as we are certified by ISO 9001:2000 : HACCP; ESMA (THE EMIRATES AUTHORITY FOR STANDARDIZATION & METROLOGY ; NSF International ; CENTCOM Approved.
Each bottle of "Dibba" Pure Natural Water is pure and free from any health concerns due to its source, filtration system, automatic production system without human contact during the process and with low bromate value. All the pipes used are of Stainless steel 316 food grade.
Enclosed are the certifications from different quality standard companies.